Therapeutic Exercise In Columbia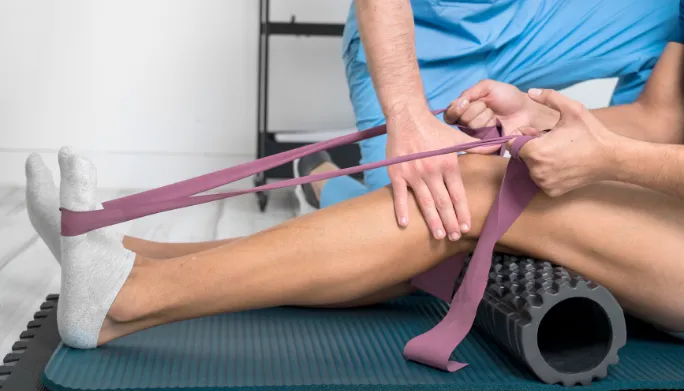 Discover the Power of One-on-One Therapeutic Exercise in Columbia
At our clinic, we believe in the extraordinary benefits of personalized care. Unlike the vast majority of other physical therapy clinics, our highly trained physical therapists are dedicated to providing one-on-one attention to each patient. With all our therapists being Doctorates of Physical Therapy (DPTs), you can trust that you are in the hands of experts who prioritize your well-being.
Our approach goes beyond just treating symptoms. We aim to solve the root problem, helping you not only recover but also become even better than you were before. Our emphasis is on comprehensive rehabilitation, tailored to your specific needs and guided by our experienced therapists.
Unlock the Potential of Therapeutic Exercise
Therapeutic exercise is a cornerstone of our patient rehabilitation programs. It offers a range of benefits, from restoring muscular and skeletal function to reducing pain and increasing flexibility. Our physical therapists strategically incorporate therapeutic exercises into your treatment plan to address your musculoskeletal problems effectively.
1. Strength Training
After an injury or surgery, muscles can become weaker quickly. Our strength training exercises, which can be adjusted based on your fitness level and stage of recovery, target muscle tissue in the affected areas. By addressing pain-related muscle inhibition, we help you regain strength and vitality. We utilize various techniques, including resistance training using weights, bands, or your body weight.
2. Endurance Building
As you grow stronger and your physical abilities improve, we incorporate endurance training to enhance your stamina and resilience. These exercises, which involve sustained muscle movement over an extended period, contribute to your overall fitness and cardiovascular health. We can even guide you on incorporating endurance exercises into your daily routine.
3. Balance and Coordination Enhancement
Weak muscles and impaired coordination often accompany injuries. Through targeted therapeutic exercises, we strengthen your muscles and enhance their harmonious functioning. Improved balance, coordination, posture, and joint stability are the outcomes. Our interventions may include simple exercises like one-legged stance or more specialized techniques such as using exercise balls. We may even recommend practices like yoga for neuromuscular rehabilitation, fostering a synergistic connection between your muscles and neural system.
4. Flexibility Enhancement
Stiff joints and muscles can limit your range of motion and hinder recovery. Our low-intensity flexibility exercises aim to increase muscle pliability and improve joint mobility. By gradually introducing controlled movements, we help you restore flexibility and alleviate stiffness. These exercises are typically performed at the end of a physical therapy session when your muscles are warm and receptive.
Experience the Full Spectrum of Benefits
Therapeutic exercise is not only a means to address your orthopedic concerns but also a catalyst for holistic improvements. In addition to pain reduction, increased mobility, and enhanced joint function, patients often report several positive changes:
You will feel less anxious
Better posture
Fitness improvements
Fall risk reduced
Better sleep
A general sense of well-being
What to Expect from Our Therapeutic Exercise Programs
When you choose our clinic, you're embarking on a journey towards recovery and rejuvenation. Our dedicated physical therapists will guide you every step of the way:
Personalized Plan: Your physical therapist will carefully review your therapeutic exercise plan, considering your unique condition and overall health.
Hands-On Guidance: To ensure proper form and technique, our therapists will assist you with the movements, providing valuable support and expertise.
Empowering Independence: As you become comfortable with the exercises, you may be encouraged to continue them on your own. Should you have any questions or experience discomfort, our team is readily available to assist. We can modify exercises to suit your individual needs.
Consistency for Success: Consistency is key for strengthening muscles, endurance, and balance. We understand that injuries take time to heal, which is why adhering to your personalized program is crucial. Even when you're not at the clinic, maintaining your physical therapist's guidance and recommendations is vital for a successful recovery.
Take the First Step towards Revitalization
Don't let injury or musculoskeletal pain hold you back from enjoying life to the fullest. Our compassionate and skilled physical therapy team is here to help you regain your mobility and well-being. Experience the transformative power of therapeutic exercise with our personalized care.
Contact us today to schedule an appointment and discover how therapeutic exercise can unlock your true potential.
Request An Appointment
Please fill out this form and
we will contact you about scheduling. Don Kenney

I've been a patient for several of the therapists at the new Ascent PT and esp. Jim.  All were very thorough, engaging and professional, while being experienced in new techniques and therapies.  I would recommend them very highly.  I just finished therapy for about 6 weeks with Casey Powers and he did an outstanding job.  He challenged me every session and has given me techniques and exercises to work on after I have graduated on.  Casey was very helpful and professional, and his expertise has provided me with the resources to continue on my journey to achieve higher!!! Christie Dennis

Ascent Total Performance have absolutely phenomenal with my daughter in her physical therapy for her ACL.  The level of service and easy appointments have been superb.  My daughter truly enjoys her therapist and we have seen great progress.